1) This is a ruffled sweatshirt from New York and Company, but the picture doesn't really do it justice. The collar actually stands up, not flat like in the pic and should never be clipped in the middle. NY&C can be hit or miss, but sometimes they hit it right on. I love a sweatshirt that I can wear with my Target yoga pants or with a nice pair of black pants with almost anything underneath. Also, I can wash it over and over again after a dousing of baby spit up and it bounces right back.
2) This reversible 'puffer' vest from Target for only $15.00! The thing that I love (besides its reversible-ness and the two great colors) is that it's very thin. It doesn't feel or look all bulky.
3) Kroger brand White Cheddar Rice Cakes. I'm sure there are better ones at Trader Joe's (don't rub it in Ashley and Sarah), but I always crave crunchy, salty snacks. These are only 40 calories each, they're cheap and they taste really good so I'm not trying to go back for a round of potato chips later. Being at home long chunks of the day is good for laundry, but not so good for the snacking.
4) Dan in Real Life: I love this movie! It's so clever and moving and witty and I'm so glad that I own it now! I like to watch it every other day or so and it's the perfect movie for a farm or lake weekend! I got it used at Blockbuster-that's a great way to buy movies because they're $10 and you can take them back if there's anything wrong.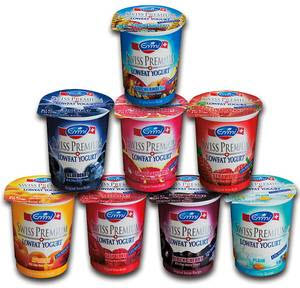 5) I'm completely obsessed with this Emmi Swiss yogurt. It is amazing! The flavors are so unique - pink grapefruit and apricot and more, plus the typical strawberry and raspberry- and it's lowfat, but is much more creamy and rich than other kinds of yogurt. I've never been a particularly big yogurt fan, but this makes me crave yogurt and want it for breakfast and snacks and everywhere in between. That's a good thing because Dr. Oz says that it's one of the best ways to boost your immunity and fight off colds. You will love it!